Z6_GHK6HJC0OG6S20Q8HU3K6R0G63
Z7_GHK6HJC0OG6S20Q8HU3K6R0GM7
S2K Commerce - Products Dropdown
Actions
Z7_GHK6HJC0OG6S20Q8HU3K6R0Q22
Local You Know
Native Maine has been a leading wholesale food distributor in Maine,
New Hampshire and Massachusetts for over 20 years!
We are the Local You Know.
Learn More

Based in Westbrook Maine, Native Maine Produce & Specialty Foods is a leading food distributor delivering fresh produce, meats, dairy, cheeses and specialty foods to commercial kitchens in Maine, New Hampshire and Massachusetts.
Local Food
Native Maine works closely with dozens of local farms to supply an extensive array of locally produced foods.
Native News
The latest news from Native Maine. Industry information and alerts, new product offerings, specials and more to keep you up to date.
School Blog
School food service workers check out our school blog for the latest school food and nutrition news and information.
Why Native Maine
We know food.
Whether it's our buyers checking on crops in the field, our friendly customer service team answering your questions or our knowledgeable sales staff assisting with a profitable menu plan; the Native Maine Team is here to help with expert advice from farm to plate!
Our HACCP certified warehouse and staff have continually achieved exceptional food safety and food security standards, above and beyond requirements and among the highest ranking third party audits in the nation.
About Us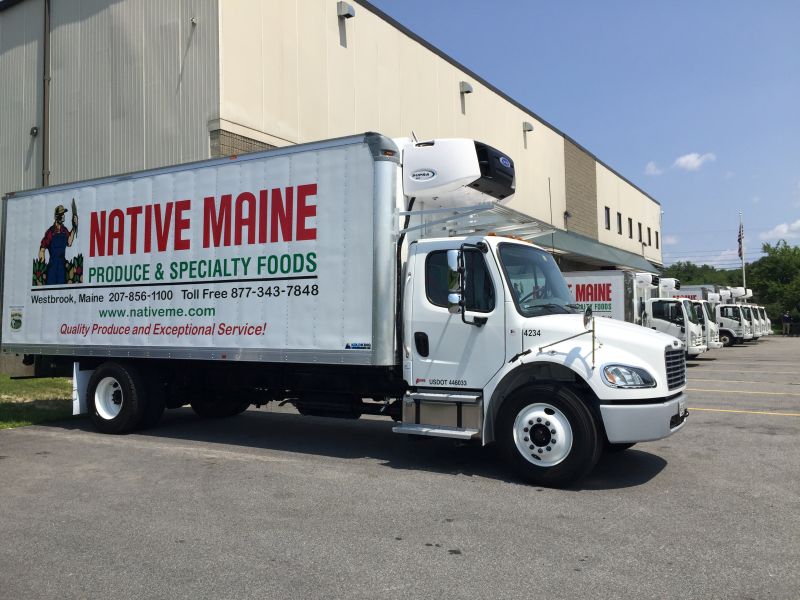 Who We Are
Native Maine Produce & Specialty Foods (Native Maine) is a leading New England wholesale food distributor based in Westbrook, Maine serving businesses throughout Maine, New Hampshire & Massachusetts with delivery of fresh produce, dairy, meats & specialty foods.
Stocking over 3,000 food products from Maine and around the globe, our customers are provided quality, in-stock products and exceptional customer service.